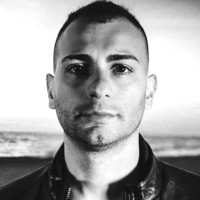 Hello 👋🏽
Hi and thank you for being here!
If you are on my page it's probably because you've seen me deal with computer science and web technologies or DJing somewhere around.
Something about me:
I'm Francesco, a computer engineer graduated at University of Pisa, and music producer from Italy. I'm 37 years old and I'm fascinated by everything that has circuits: no matter if they are computers, synthesizers or microwave ovens 😊
I started working as IT-consultant at the end of 2015. At first I was in charge of frontend development of Web Applications, using Html5 and Css3 with a little additional touch to Backend code, in Java EE.
In january 2016 i started working for Telepass S.p.A. for about one year and from that time and onward I was assigned to new projects (for several customers such as Autostrade per l'Italia, Cartasì etc).
Even though I got the chance to work on the Backend code I've decided to improve my experience with the Frontend (studying in depth Bootstrap, Html5, Css3, Jquery and frameworks like Angular, Ionic, React).

In the last two years i've been developing hybrid apps and PWA for beach clubs, restaurants and dog beach resorts.
As web developer my daily tasks are:
- gathering requirements and company needs
- transforming the requirements into solutions
- developing the solutions into projects
---
Enhance your business: 2020 yourself!
I will help you to create a remarkable first impression with creative designs
Web Development
HTML, CSS (Bootstrap), JavaScript (Jquery), Angular, Ionic, React, Firebase
Responsive Design
In 2020 you can't go online without having a mobile responsive website. Let me take care of that for you!
PSD to HTML
If you already have a design in Photoshop, Invision or any other format, I can convert it from scratch into pixel-perfect HTML/CSS/JS website.
---
Projects
this is what I have been doing lately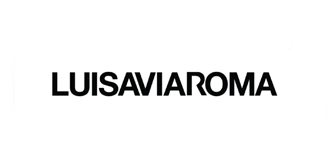 Front-End Developer for the e-commerce Luisaviaroma.com
Maintenance and new developments of the website.
Technologies: PHP, Javascript, JQuery, Html, Css, Sass, React.
Creation and management of algorithms for customer experience analysis on Dynamic Yield.
Use of Commanders Act and High Street platforms for marketing and retargeting events.

Front-End Developer for Sunset Beach Club
Creation, maintenance and development of the website (Desktop and Mobile).
Technologies: Javascript, JQuery, Html, Css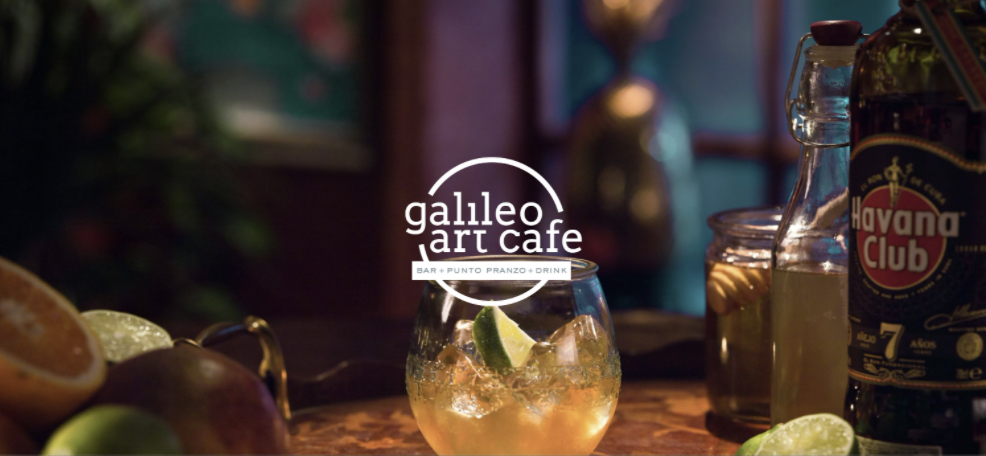 Galileo Art Cafè
Creation, maintenance and development of the website (Desktop and Mobile).
Technologies: Javascript, JQuery, Html, Css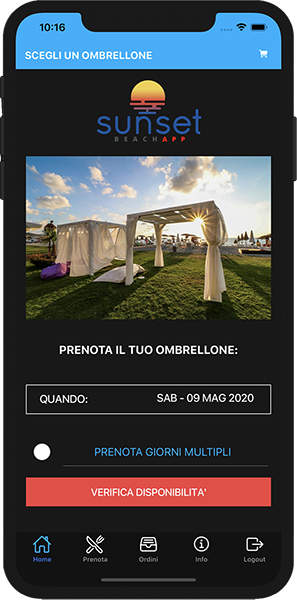 Sunset Beach Club
Frontend development of a hybrid app (iOS and Android) for smartphones and tablets, Sunset Beach Club.
The app allows the booking umbrellas, restaurant services, parking and bar orders for an italian beach club.
Technologies: Javascript / Typescript, Ionic Framework 5, Angular 8, JQuery, Html, Css.
Conversion of the hybrid app into a PWA, so to make the software available even to platforms that are not compatible with Android or iOS and to overcome the limits imposed by the App stores.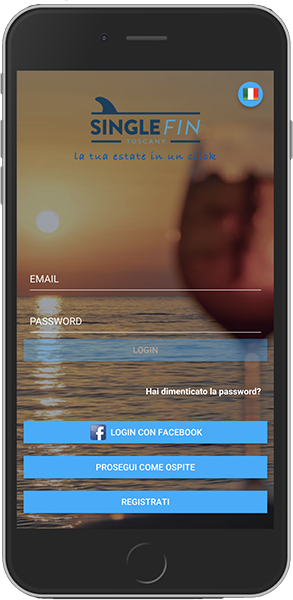 Single Fin Dog Beach
Frontend development of a hybrid app (iOS and Android) for smartphones and tablets, Single Fin Dog Beach.
The app allows the booking umbrellas, restaurant services, parking and bar orders for an italian beach club.
Technologies: Javascript / Typescript, Ionic Framework 5, Angular 8, JQuery, Html, Css.
Conversion of the hybrid app into a PWA, so to make the software available even to platforms that are not compatible with Android or iOS and to overcome the limits imposed by the App stores.


---
Get In Touch
Wanna say "hello"? Don't hesitate! Drop me a line and I'll get back to you ASAP!
For job inquiries, begin your subject with "Job"
---